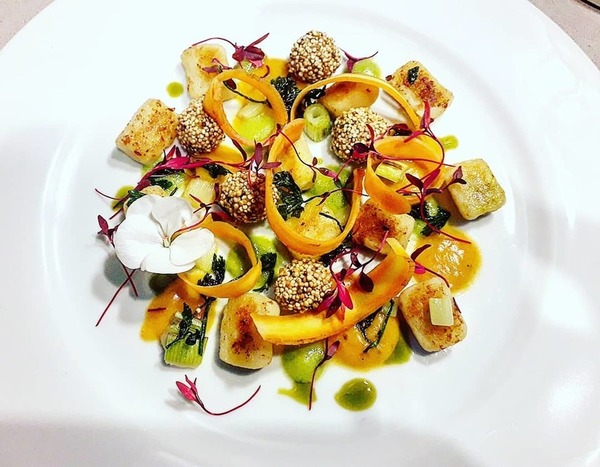 £60 pp
(indicative price)
Celebration Menu
Dinner party menu for all tastes
appetizer
Apple, brie and prosciutto bits
or
Guacamole bruschetta with mix topping
starter
Seared scallop, jumbo shrimp, thyme and honey roast carrot purée, Vietnamese cilantro dressing with bacon crumble.
other
Peri Peri chicken and mushroom skewer, homemade Peri Peri dressing with crisp salad.
other
Sweetcorn fritter mini disc stack Sicilian caponata with garlic and yoghurt sauce.
main
Smoke roasted lamb rump, creamy truffled white sweet potato croquette, confit carrot, asparagus purée and rosemary and lamb roasting jus.
other
Pan-fried pollock, shallot and herb crusted potato, sautéed Swiss chard with a shrimp and caper sauce.
other
Rice gnocchi, curried pumpkin purée, spinach and aubergine, crushed cashew topping and herb infused truffle oil.
dessert
Blueberry and almond crumble tart with raspberry sorbet and blueberry coulis.