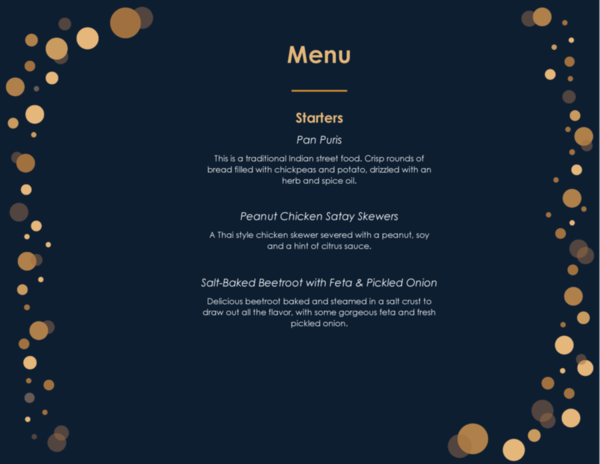 £35 pp
(indicative price)
Everyone's Favorite
This menu cover's Most specifications such as:
- Pescatarian
- Vegans
- vegetarian
- Meat Eaters
If needed I am able to edit the menu if for Gluten Free or Lactose Free people.
If you like the sound of some of the dishes but you would like a tweak o them let me know and i'm sure i could do that for you.
starter
- Peanut Chicken Satay Skewers -
A Thai style chicken skewer severed with a peanut, soy and a hint of citrus sauce.
starter
-Salt Baked Beetroot with Feta & Pickled Onion-
Delicious beetroot baked and steamed in a salt crust to draw out all the flavor, with some gorgeous feta and fresh pickled onion.
main
- Vegan Margherita Pizza -
A classic Italian pizza but with the comfort of the use of only plant-based substitutes.
main
-Wild Mushroom & Ricotta Rice with Rosemary & Thyme-
All the goodness from the wild mushrooms picked locally served in creamy ricotta rice with herbs.
main
-Venison Steak with Stroganoff Sauce & Creamy Mash-
Local Venison Steak served with the special homemade chips and mushroom cream sauce.
main
-Smoked Mackerel Risotto-
Freshly caught mackerel served in a warm and comforting risotto.
dessert
-Vegan Eton Mess-
A berry filled vegan alternative to an Eton mess which swaps the egg whites with ingenious alternative.
dessert
-Vegan Millionaire's bars-
Chocolatey Treats with chewy dates, cashews and maple syrup and just as good as the original millionaire's shortbreads.
dessert
-Chocolate Molten Cakes-
Soft chocolate cakes with the surprise center of the melted chocolate that just pours out as you slice into it with your spoon.
dessert
-Peach Melba Sundae-
The perfect end to your evening with a light dessert with a dash of champagne or prosecco for all the grown-ups.