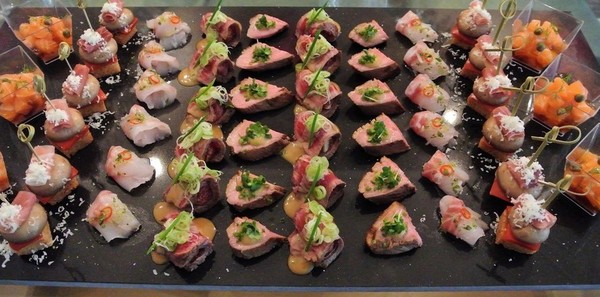 £45 pp
(indicative price)
Canapes and Live Sushi party!
This dish is perfect for a party! Four different kinds of canapés as your starter and then you can enjoy live sushi!
We set up a Sushi bar and make it in front of you.
starter
5 different kind of canapés:
a)Marinated chicken Karaage(Deep fried marinated chicken)
b)Salmon tartar with Yuzu soy sauce
c)Roasted duck with miso sauce
d)Grilled aubergine with Yuzu tomato sauce(V)
e)Mozzarella cheese gazpacho(V)
main
Sushi :
6 Kind of Nigiri (6 pieces) and 1 kind of sushi roll (6 pieces)
We set up Sushi bar and make them in front of you!
dessert
Matcha ice cream or Vanilla ice cream with Matcha sauce