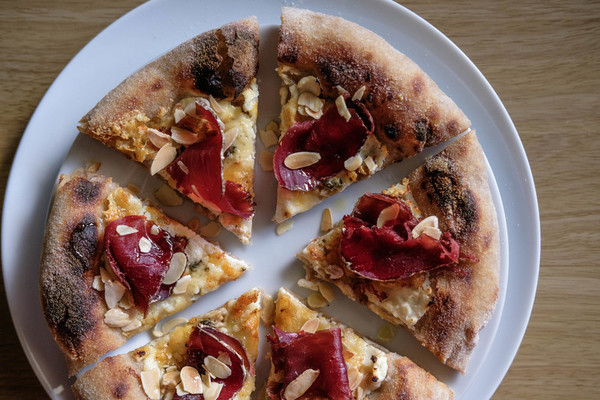 £35 pp
(indicative price)
Sourdough Gourmet Pizza
Enjoy an incredible dinner in which the protagonist will be a sourdough pizza served in a gourmet style, freshly baked directly at your place!
24-hours proofed in order to maximize flavor, fragrance and digestibility.
Fresh, seasonal and traditional Italian ingredients will be the perfect topping for each slice.
And if you want to make your own pizza at home next time, I can show you my baking secrets and share my recipe and my sourdough starter with you!
starter
Fried Aubergine Parmigiana
main
Sourdough Gourmet Pizza:
- Gourmet Margherita - Tomato sauce, cherry tomatoes, basil, parmesan, EVO (extra virgin olive oil)
- Marinara - Tomato sauce, cherry tomatoes, anchovies, EVO
- Ricotta, Gorgonzola, Speck, Walnuts and Honey
- Courgettes, Mint, Ricotta, Lemon oil
- Cacio e Pepe : Pecorino romano / Parmigiano and Black Pepper
- Carbonara: Egg cream, Smoked pancetta and Parmigiano, Black Pepper
- Caramelized red onions, Goat cheese, Mozzarella, Thyme, Toasted Almonds Flakes, EVO
- Italian sausage, Tomato sauce, Mozzarella, Parmigiano, Fennel olive oil, orange peel
dessert
Mint Pannacotta with Raspberry Compote