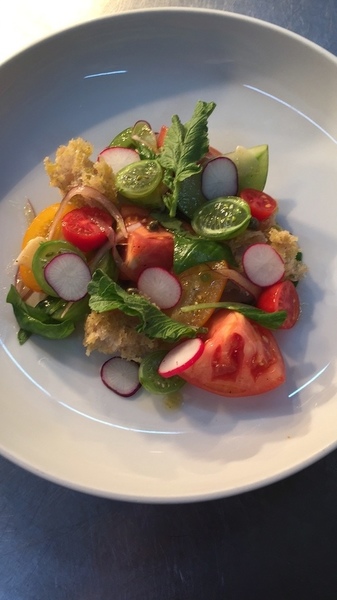 £45 pp
(indicative price)
Spring to Summer Menu
This menu is all about good quality seasonal ingredients and gettin the most out of them. I like my dishs to be packed with flavour but not too heavy. I like to keep dishs vegetable heavy. Unless it's a big chunk of good quality meat to share.
appetizer
Kolhrabi Tacos:
Shaved discs of Kohlrabi, crushed fresh peas and broad beans with some preserved lemon and a little fermented chilled and some mint for a background flavour, Seasoned with a leek ash.
starter
Heirloom Tomato Panzanella:
Seasonal Heirloom tomatoes, rainbow radishes, sourdough croutons, capers, hinnomaki gooseberries and basil. All marinated in a good quality olive oil and fresh seasoning
main
Dexter Bavette:
Pan fried Dexter flank steak, confit datterini tomatos, chestnut mushrooms and rocket, dressed with some roasting juices and a light meat sauce.
main
Baked Plaice:
Fillet of plaice, romano courgettes and broad beans dressed with lemon and olive oil, courgette purée and garnished with some edible flowers from Brockley.
dessert
Milk Cake:
Raspberrry and pine nut milk cake, frozen raspberries and crystallised violets with raspberry ice cream.