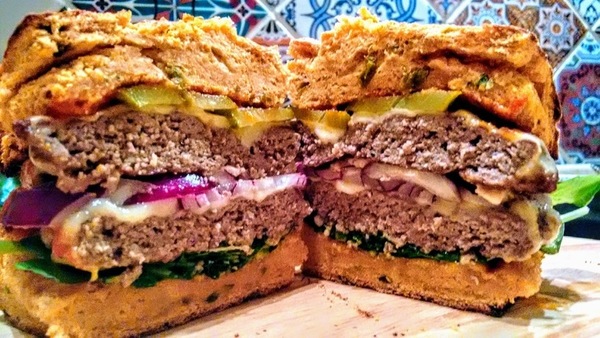 £15 pp
(indicative price)
Gourmet Flame Grilled Burgers
I make big juicy gourmet flame grilled burgers cooked over real fire! Check out some of my creations!
main
The Swiss Tony
The Swiss Tony will have your taste buds at "Hello." Fully stuffed with more flavor than it knows what to do with, this robust cheeseburger can satisfy the hungriest of bellies and the most discerning of palates. If you're craving a little burger and cheese romance, it's time you spent some quality time with Swiss Tony!
Ingredients:
Beef Patty
Ham
Sautéed Mushrooms
Dijon Mustard
Mayonnaise
Potato Roll
Swiss Cheese
main
The All American
This cheeseburger will have your taste buds singing "The Star-Spangled Banner" after just one bite!
Ingredients:
2 Beef Patties
Kraft Cheese Slices
Iceberg Lettuce
Tomatoes
Bacon
Mayonnaise
Ketchup
Sliced Red Onions
Classic Sesame Seed Burger Bun
main
The Farmers Wife
Wholesome and well-mannered, The Farmers Wife is a country girl at heart. She was born and bred where the air is fresh and the soil is fertile. Where a birch tree carries on a conversation with a babbling brook. Despite The Farmers Wife delicate ways, she's a cheeseburger that can satisfy the strongest of appetites.
Ingredients:
Beef Patty
Brie Cheese
Apple Butter
Dijon Mustard
Spinach
Toasted Brioche Loaf
main
The Slob
The remote control in one hand. this burger in the other hand. What else could a person ask for? Created for anyone with a finely honed sedentary lifestyle, The slob ensures you won't be going anywhere anytime soon. So put the recliner in cruise control and pop open a cold one. You've earned it.
Ingredients:
Blue Cheese
Beef Patty
Thick-Cut Potato Chips
Smoked Pepper Pork
Sautéed Onions
Garlic Mayonnaise
Buttered Brioche Bun
main
The Caveman
Stacked with more meat than the average carnivore would care to consume in one sitting, it makes no apologies if it spoils your dinner for the next few days.
Ingredients:
Beef Patty
Red leicester
Split Bratwurst
Sautéed Onions
Beer Mustard
Sauerkraut
Kaiser Roll