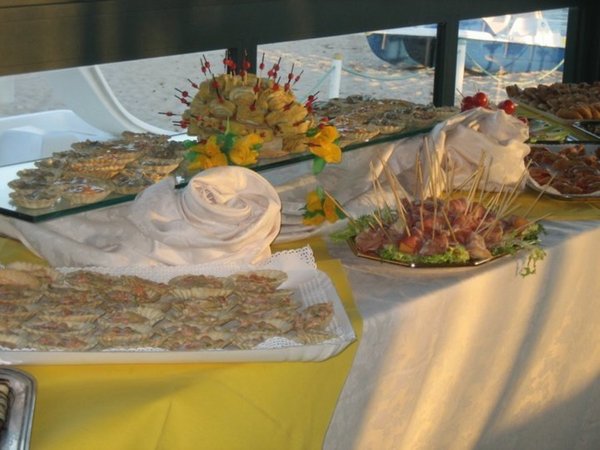 £35 pp
(indicative price)
Tapas and finger food for your parties! All Italian style!
If you need a nice and coloured buffet for your party or simply if you want to try different Italian dishes, one with every bite!
Vegetarian and vegan options available!
appetizer
Olive Ascolane
(Italian starter from Ascoli Piceno made of fried green olives, stuffed with minced meat (beef, pork and chicken liver) and spices
tapas
Arancini di riso
(stuffed rice balls which are coated with breadcrumbs and then deep fried. They are usually filled with ragù (meat and tomato sauce), mozzarella, and peas.
The name, which is translated as "little orange", derives from their shape and colour, which is reminiscent of an orange after cooking.
It's maybe the most important dish from Sicily
tapas
Lasagnetta bolognese
(the most traditional dish from Emilia Romagna, in a tapa version)
tapas
Gatto' di patate
(traditional dish from Campania, similar to a souffle' made with potatoes, salami, mozzarella, provola cheese, so tasty!)
tapas
Panada
(Traditional small Sardinian pie, filled with lamb, artichokes and potatoes)
tapas
Beef carpaccio, rocket and parmesan canape
(one of the most famous of Italian antipasti invented by Venetian hotelier Giuseppe Cipriani, of Harry's Bar fame)
dessert
Spiedini di frutta fresca di stagione
(seasonal fresh fruit skewers)
Carved watermelon or melon or pumpkin not included and available for a price to be agreed.
dessert
Praline cocco e ricotta
(Small praline of ricotta cheese and coconut powder)