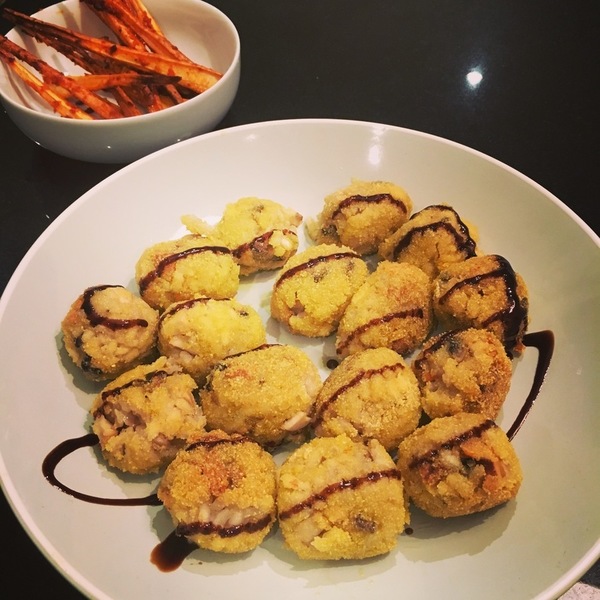 £49 pp
(indicative price)
Eclectic tapas spread
A delicious array of bite-size dishes, all made from high quality vegetable ingredients, to amaze your guests - and your tastebuds. Flavours and styles from all over come together on your table. May the conversation flow as smoothly as the dishes being passed around...
Ask me for wine pairing suggestions - and just so you know, I stopped getting hangovers when I went vegan... ;)
tapas
Crispy mushroom arancini with creamy filling.
Little balls of the creamiest mushroom risotto, stuffed with more creamy filling, rolled in polenta and lightly fried in olive oil. Also known as 'foodgasm'.
other
Sweet potato and sundried tomato sliders on rosemary focaccia.
A mini incarnation of my most critically-acclaimed veggie burger: a base of sweet potato, red lentil and oat, jazzed up with sundried tomato, sweetcorn, pine nuts, garlic and chilli. Served in a mini focaccia bun with a dollop of smashed avocado
other
Middle Eastern popcorn cauliflower: cauliflower florets lightly coated in a Zaatar-spiced chickpea batter and fried until golden, then drizzled with a pomegranate molasses and mint dressing.
other
Cumin and cayenne parsnip chips
other
Crispy polenta aubergine fries with homemade fig caramel dip
other
Crispy harissa chickpeas
other
Sundried tomato butterbean hummus.
Hands-down my favourite dip. And I eat a lot of dips.
dessert
Salted caramel brownies with fresh berries