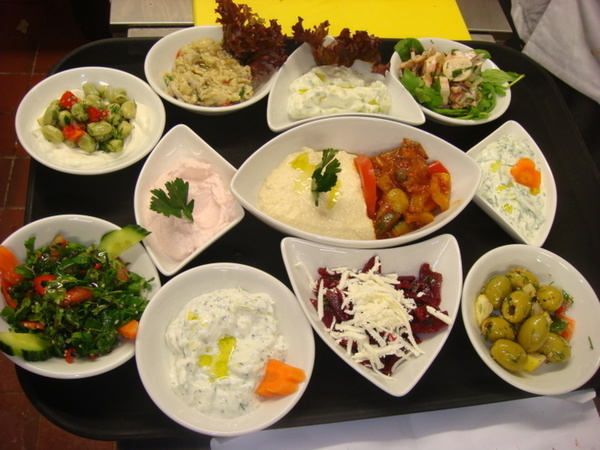 £68 pp
(indicative price)
SPECIAL MEZE MENU Vegetarian, Meat and Fish Mezedhes
BRINGING A WORLD OF MEZE TO YOUR TABLE
The word meze means taste. Meze is a selection of small dishes served to accompany alcoholic drinks as a course or as appetizers before the main dish in Greece, Turkey, Balkans and Middle East. Dishes that are served in a meze is called mezedhes and these vary by region.
Meze was invented in the Sultan's palace in Istanbul in the mid-sixteenth century and it became fashion with the rich and famous to dine like the Sultan.
The meze craze cought on in upper-class haunts as gedikli meyhaneler (all night bars) which mostly ran by Greeks, Armenians and Jews. Meze concept spreaded to Greece, Balkans and Middle East. Spaniards response to meze is tapas
The purpose of the meze is two-fold; to compliment and enhance the taste of drink (wine, ouzo, beer etc) and provide the backdrop for a social gathering.
Unlike appetizers which are intended to whet the appetite for the meal to come.
It is common for groups of family and friends to gather or go out for mezedhes, share several of these dishes, a drink, conversation and laughter. The little plates are shared by everyone at the table which not only provides wanderful variety of flavor and texture sensations, but also creates the kind of happy, convivial atmospher.
How ever, despite the origin of meze, our aim is to offer you a uniqe experience Our kitchen team takes great pride in their preparation and their most gratifying reward is seeing the dishes return empty.
appetizer
SPECIAL MEZE MENU
Meat, Fish and Vegetarian Mezedes
18 cold, 6hot mezedhes and main course
(Pitta bread, Kalamata and green olives, humus, tarama, satziki, , melanzane salad, caponata, beetroot salad,
avocado dip, gigandes, vegetarian dolma,meat dolmades; feta triangle, falafel, grilled hallumi , white bait, spinach and salmon borek
and spicy sausage skewers)
Followed by mixed grill (tender chicken, lamb, Kofte and lamb cutlet), stuffed aubergine with feta and prawns and calamari a la Greko, Bulgur a la Turka
and feta salad to share